Formal Verification of Hybrid System
¡¡
1. Formal Verification of ECML(ETRI CPS Modeling Language) using HyTech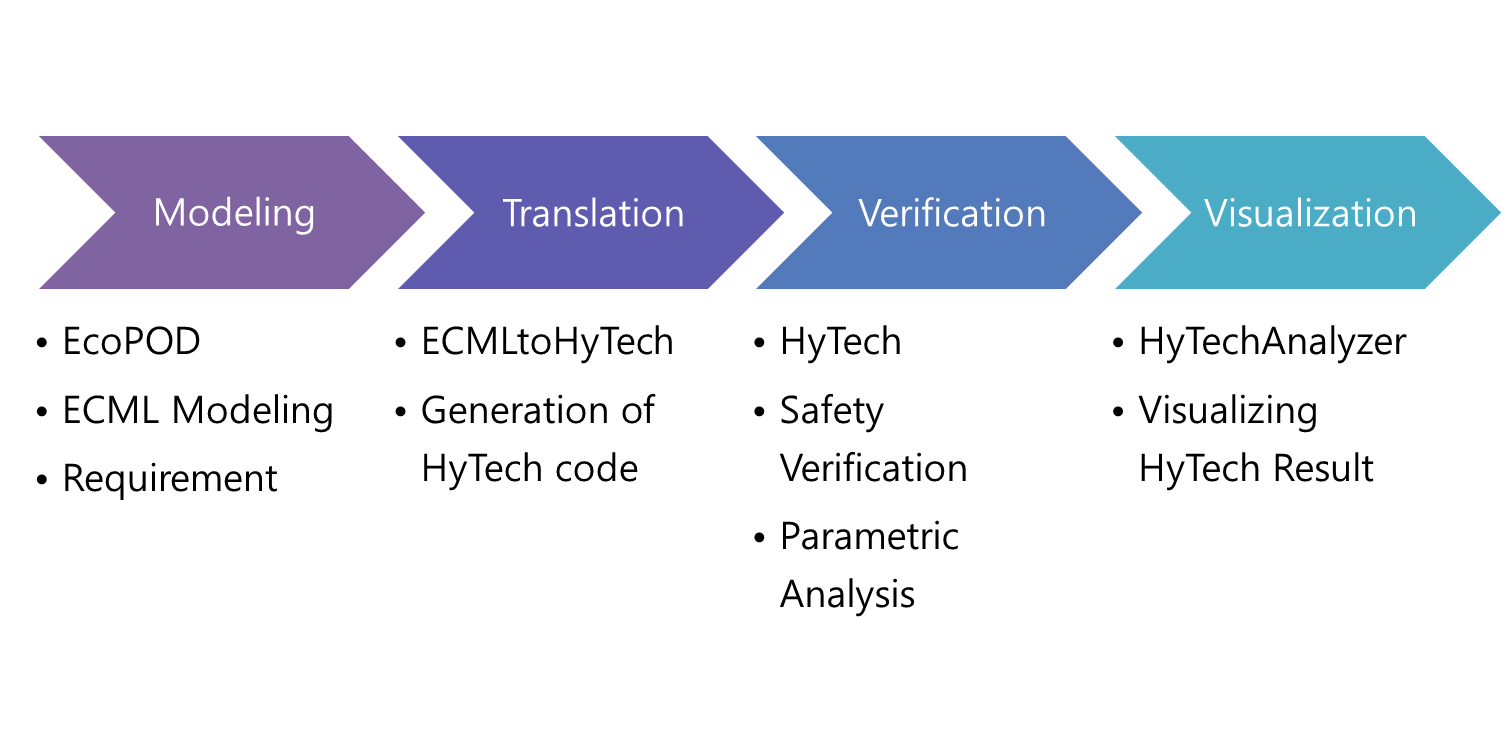 ¡¡
2. ECMLtoHyTech
An automatic translator from ECML to linear hybrid automata in HyTech

ECMLtoHyTech [download] developed by Jaeyeon Jo(MS, currently working for ETRI, 2013.12.01)
Semi-formally defined translation rules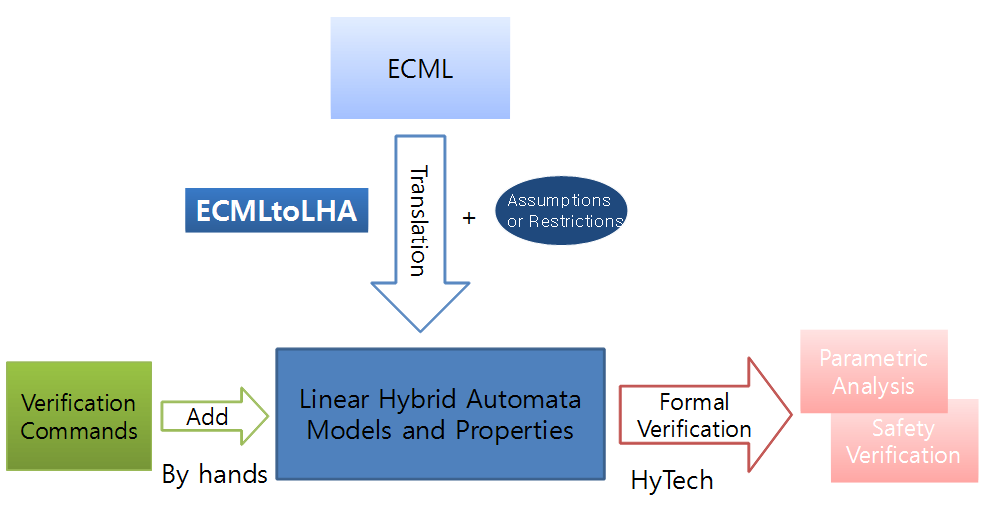 ¡¡
¡¡
3. HyTech Analyzer
An automatic assistant for HyTech

The HyTech model checker provides no GUI.
Provides graphical interfaces for HyTech and in-depth analysis on verification results
Developed by Jaeyeon Jo (MS, currently working for ETRI, 2013.12.01)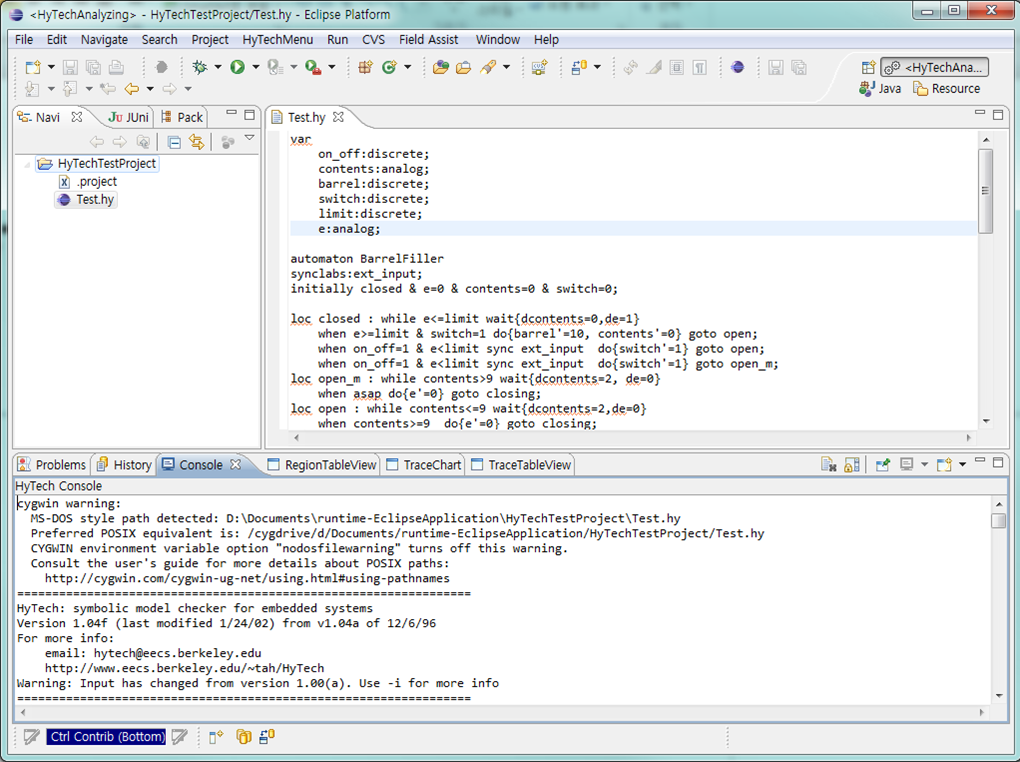 ¡¡
¡¡
4. Formal Verification of ECML using SpaceEx

5. Formal Verification in EcoPOD
EcoPOD

Modeling & simulation Environment for ECML

Translation tool set

ECML checker: An automatic assistant for ECML language rule & translation restriction checking

Makes checking result report file (.xml format)
Included in EcoPOD

ECMLtoSpaceEx: An automatic translator from ECML to SpaceEx Model

ECMLtoSpaceEx[download] developed by Sanghyun Yoon.
The tool translates ECML model into behaviorally equivalent SpaceEx model.

CPVtoCFG: An automatic translator

Users could specify verification property in EcoPOD.
Translate verification properties specified in EcoPOD (CPV file), and set initial values & locations

CPV file: Verification property file format in EcoPOD
CFG file: Configuration file format for SpaceEx; it includes verification properties

Included in ECMLtoSpaceEx.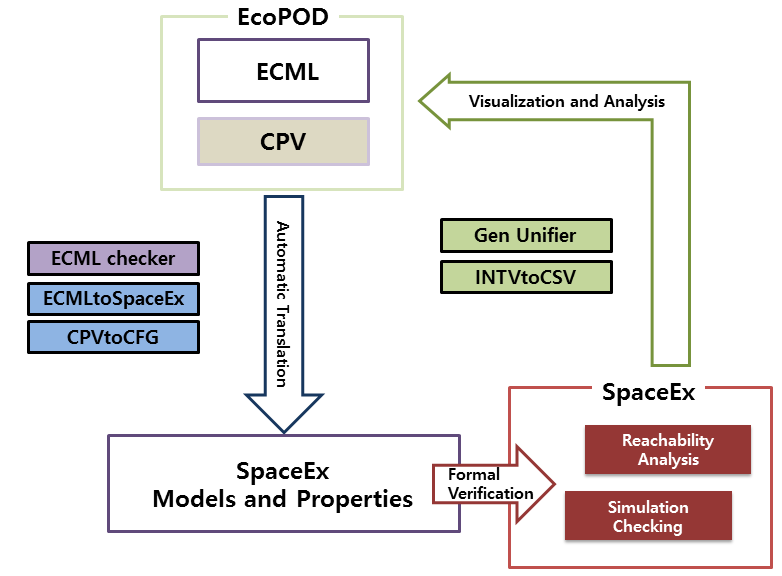 GenUnifier & INTVtoCSV

Visualization tools from SpaceEx verification result
INTVtoCSV shows ranges of values for variables in each location.
GenUnfier shows change of values for variables.